Cloud-based Global Accounting Outsourcing Service
GLASIAOUS
By using global cloud-based Accounting System, "Global Accounting Outsourcing Service" is for Japanese corporations that Accounting firms located worldwide perform accounting business on behalf of Customer's overseas affiliates.

In case enough accounting skilled resource is not available in the overseas affiliates, experienced professionals fully support their accounting business with accuracy in timely manner. The accounting data is securely stored in the cloud-based accounting system and can be viewed from Japan HQ anytime through web browser. This enables the HQ to know accounting and financial information and managerial indicators of the overseas affiliates in real-time basis. Also, various optional service is available to respond customers' specific needs and business expansion in the future.。
【service image】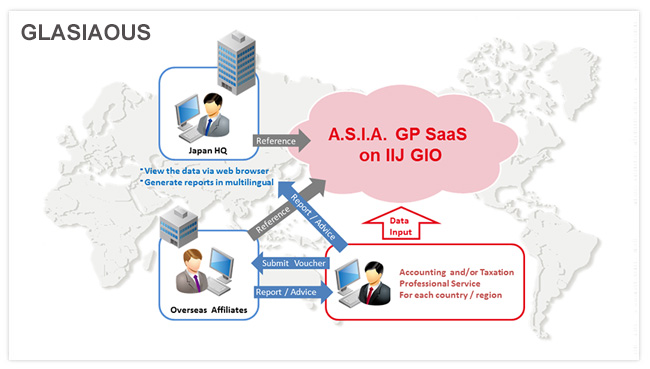 This service uses "A.S.I.A. GP SaaS on IIJ GIO" as global accounting information system.
TOP
Book keeping is not needed in the overseas affiliates. Providing support for tax return as well as the accouting business.
This sercice can be used right after launch of an overseas affilae.
In case enough accounting skilled resource is not available in the overseas affiliates, experienced professionals fully support their accounting business with accuracy in timely manner.
The data stored on the cloud can be viewed by Japan HQ can view the data stored on the cloud and generate reports in multilingual for various reports.
The accounting data is securely stored in the cloud-based accounting system and can be viewed from Japan HQ anytime through web browser.
And Japan HQ can generate financial reports, such as financial statement and general ledger, as well as managerial accounting reports in many languages.
Various optional service is available to respond customer's specific needs and business expansion in future.
For example, agent service for payroll processing and/or on-site payment, re-structuring accounting standards between overseas affiliates and Japan HQ, accounting information management per segment, and auditing and business consultation for the overseas affiliates are available as the optional service.
TOP
Register journal voucher
Register foreign currency transactions
Reassessment of items in foreign currencies
Generating various reports / financial statements
(including 1 user id)
Dedicated portal site (Japanese)
Generate reports for Japan HQ
Keeping documented evidence
Tax return business (Extra Charge)
Additional user ids for report generation (Extra Charge)
Register and/or keeping A/R
(A/R entry, A/R statement, generating A/R management reports)
Register and/or keeping A/P
(A/P entry, A/P statement, generating A/P management reports)
Agent service for invoicing
Agent service for payment
Re-structuring accounting standards
Book keeping per segment
Developing customized report formats
Management of fixed assets
(register and manage fixed assets information and/or accounting process)
etc.
Global Accounting Outsourcing Service

"Global Accounting Outsourcing Service" Japanese page, please click here.