Participating the project for "IIJ Data analytics platform" to prevent the threat of APT and DDoS attacks, which increase in complexity and sophistication every day
To IIJ Global Solutions customers:
IIJ Global Solutions Inc.
As cyber-attacks move relentlessly toward greater sophistication, there is no end in sight when it comes to attacks that breach the security of enterprises and other organizations. Attackers will continue to try to infiltrate the systems of specific companies through emails and other web-based paths. With the range of scenarios for Internet utilization broadening due to increases in the number of devices that are plugged into the Internet of Things (IoT) and the increasing amount of data sent through DDoS attacks, cases have been discovered in which unsuspecting users are aiding in these attacks with no knowledge of doing so.
For such situation, IIJ Global Solutions also participates in "the project of IIJ data analytic platform", which has been announced in press release of October 31, 2016, as the reseller of the IIJ service. Please refer to the following IIJ Press release.
(https://www.iij.ad.jp/news/pressrelease/2016/1031.html)
IIJ will use the data analytics platform it has created to perform multi-pronged analyses on customer logs generated through our services, and use those to analyze and extract malicious activity like that caused by malware. IIJ will take appropriate preventive and responsive action against threats to customer security based on these analyses.All the various information originating from communications by customers will be managed under strict security and with reference to the relevant laws, regulations, and guidelines.
Image of "IIJ Data analytics platform" for both "Preventive" and "Responsive" actions from cyber threats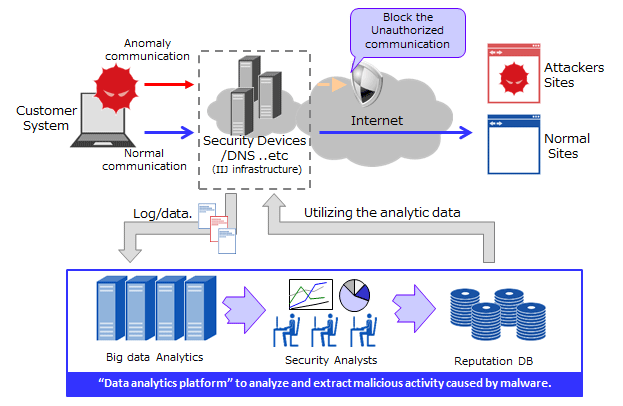 However, customers who cannot agree to the use of logs and other data, and customers that anticipate concerns related to maintaining the confidentiality of communications, may opt out of this initiative.
Please contact our sales representatives or our contact center below, with any questions or to opt out of the service.