TMS Entertainment Co., Ltd.
Service
Case Study : Secure de! World
TMS Entertainment Co., Ltd.
Head Office Spearheads Introduction of UTM Devices at Overseas Branches' Internet
Edge Enhancing System Environment Group-wide, Making Usage Visible
TMS Entertainment has brought fun, inspiration and smiles to people of all ages with its many hit animation productions, which include Lupin the Third, Anpanman and Detective Conan (a.k.a. Case Closed). The company, which celebrates its 55th year in business in 2019, has been working to create an industry-leading IT system. As part of this initiative, the company chose to introduce IIJ Global Solutions' ("IIJ Global") global security service, Secure de! World, to allow their overseas branches' networks to be managed from Japan. Secure de! World gives TMS Entertainment the visibility into its branches' network use that had been lacking.
Introducing the service has also enabled the company to implement security measures at these branches equivalent to those in place in Japan, and provide them with suitable IT support, while further improving IT systems group-wide.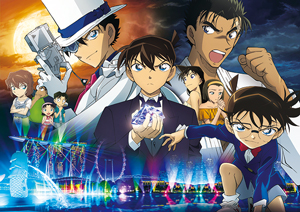 Detective Conan: The Fist of Blue Sapphire
In Japanese theaters nationwide Friday, April 12, 2019
Original work: Detective Conan by Gosho Aoyama
(currently appearing in Shogakukan's Weekly Shonen Sunday)
©2019 Gosho Aoyama/Detective Conan Committee
Overseas branches left in charge of implementing and operating their own IT environments

Providing appropriate IT support impossible due to a lack of understanding of local system conditions

Security-related concerns related to systems in Japan being used overseas
Challenges Prior to Introduction
Unable to ascertain the state of overseas branches' IT systems
Concern with allowing access to systems in Japan
Goal of building a secure, visible environment
TMS Entertainment, a leading Japanese animation studio, has released a variety of works that have received high praise inside and outside of Japan since its founding. The Detective Conan feature films, which continue to break box-office records, showcase the entertainment company's success streak.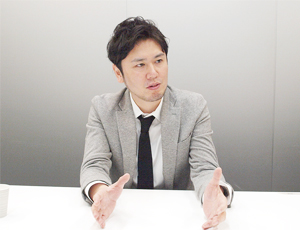 Manager
Systems Section
Systems Department
Administration Division
Saki Kawase
The company, which is celebrating its 55th year, continues to work to achieve new growth by strengthening alliances with other Sega Sammy Holdings group members, focusing its efforts on planning and development, and digitizing its production processes. Saki Kawase, Manager of the Systems Division, gives an example of a blocking issue : "While we are working as a company to innovate industry-leading systems, the way we were dealing with our overseas branches was slowing us down."
From the time it was established, TMS Entertainment has considered international markets a vital part of its business and has always directly sold its content overseas. The company's overseas branches serve as its points of contact with local clients and partners, and are used to exchange content back and forth for local promotional and marketing activities. However, the head office in Japan had no visibility into these branches' systems, because the responsibility for building them and keeping them secure had been left up to the branches themselves. Kosaku Inagaki of the Systems Department recalls the situation at that time: "Even if one of the branches contacted us saying that their Internet was slow, or that they wanted to add additional storage to their servers, we weren't able to provide them with the right answer, because we in Japan had no idea how their systems were configured or what was going on with them. Naturally, we were also concerned about the security of allowing them to access or transfer files to our systems here, since we had no clear understanding of whether they had suitable security measures in place for their Internet connections and PCs, both of which the branches had obtained locally."
To solve these challenges and be proactive about overhauling and integrating these satellites, TMS Entertainment decided to build a secure and visible environment for its foreign locations.
Determining Factors in the Decision
Easy introduction, and a balance between specifications and cost that met needs
As part of strengthening the security of its overseas branches, TMS Entertainment compared and considered a variety of services and products that included IIJ Global's global security service, Secure de! World.
Mr. Kawase speaks in detail about the process they went through to decide on a solution. "At the time, our focus was on gaining visibility here in Japan into the branches' systems, security and networks, and enabling their centralized management," he says. "We had been looking at using Cisco Systems' Meraki cloud-managed UTM appliances in order to reduce the amount of internal work needed in the operation phase, and IIJ Global was the only company that offered this product as part of a packaged service. Other aspects of Secure de! World that appealed to us were its simple specifications aimed at small and medium-sized business locations, the fact that it could be installed by the user, and its balance between features and cost that met our needs perfectly."
Based on these reasons, TMS Entertainment decided to adopt Secure de! World, and started by introducing the service at its offices in Paris and Los Angeles. It first obtained information about the locations' network connections and systems, filled that information out on the application forms and submitted them. About a month later IIJ Global shipped a pre-provisioned UTM appliance to each branch. With zero-touch configuration, any of the staff who received the device at the offices̶which do not have IT administrators̶could complete its installation just by connecting it to the network and following the English set-up guide. However, in this instance Mr. Kawase and Mr. Inagaki set up the UTM appliances as part of their visit to the branches to survey their systems and install other equipment.
"Since we studied ahead, the installations went smoothly everything was up and running that same day," Mr. Kawase recalls. "We were also able to outfit each office's IT environment, which included adding storage to their NASes and getting their printers hooked up."
Another reason Mr. Kawase gives for TMS Entertainment's decision to adopt Secure de! World was that it allowed them to start their project without business interruptions. "Since Secure de! World is offered as a package, it has this sense of speed that makes it appealing to management," he says. "This ease of introduction is something we in the field are grateful for, as we tend to think of things in terms of short spans of time. It's common to hear stories of how introducing a solution will take a certain amount of time and money but won't get underway until sometime later, and for us that just won't do."
Results of the Introduction
Visibility enables rapid response to support calls, increasing branches' sense of trust
By introducing Secure de! World, TMS Entertainment easily realized the visibility and the security measures it wanted at its branches overseas. "We are now able to provide our branches with a security environment on the same level as mobile connections within Japan," Mr. Kawase explains. "As a result, we were able to give them permission to access our systems here without concern. Another big benefit of Secure de! World is that when problems occur, we can now rapidly troubleshoot them by closely observing network traffic and figuring out what is going on at the branches. While this means that we now get more inquiries and requests from them, we take this to represent the extent to which they trust us."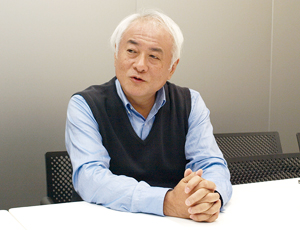 Systems Section
Systems Department
Administration Division
Kosaku Inagaki
Depending on the partner, some have designated that data transfers be carried out using specific third-party storage services. Secure de! World now enables TMS Entertainment to determine the type service it is using and available resources. By building up its know-how related to using these kinds of cloud services, the company will eventually be able to take a proactive approach to their use through tuning optimizations and increasing resources.
Mr. Kawase made the following general comment regarding the introduction of Secure de! World: "Throughout the introduction process, IIJ Global offered just the right advice and support we needed about deploying IT solutions to our overseas branches. In the case of our Paris office, we learned we needed to comply with the GDPR (EU General Data Protection Regulation) because the solution would make the content of network packets visible. Relevant guides and data processing contract documentation were also included with Secure de! World, allowing us to carry out the required legal formalities with confidence. We look forward to continuing to receive IIJ Global's advice regarding the legal side of things along with its technical support."
The IIJ Group can also offer GDPR consulting, advice for dealing with China's Cyber Security Law, and compliance-minded solutions for conducting business overseas, in addition to assisting customers with optimizing their IT and security environments. Mr. Kawase said that this was another reassuring aspect of working with IIJ Global.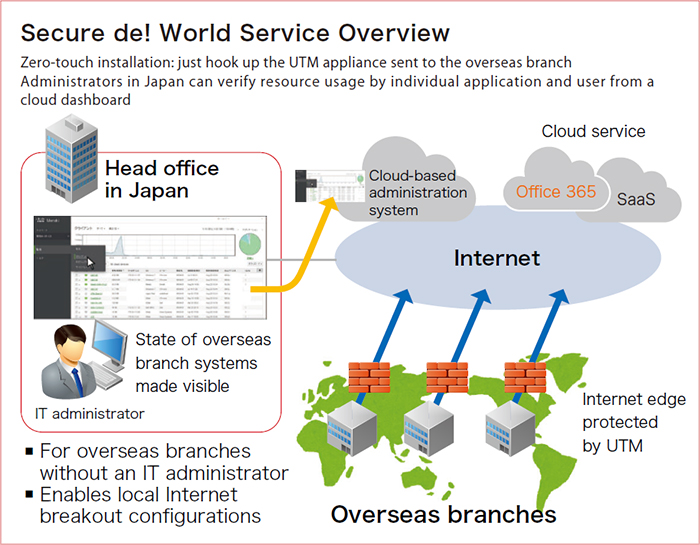 TMS Entertainment Co., Ltd.

Head Office:

3-31-1 Nakano, Nakano-ku, Tokyo

Based on the philosophy of "continuing to create moving experiences̶making life more colorful̶" TMS Entertainment dedicates itself to the planning, production, sales, distribution and licensing of animation productions. Beginning with BIG X in 1964, the company continues to make numerous animation productions, including Lupin the Third, Anpanman and Detective Conan (a.k.a. Case Closed).
Services and Solutions Intoroduced
This article is based on an interview conducted in December 2018. The data, names of organizations, and job titles contained in the article are those at the time of the interview.
The names of companies and services, etc., are the registered trade names or trademarks of the respective companies.